A Guide to Getting Started in the Canadian Film & TV Industry
Do you want to become an actor but have no idea how to get started? If so, then do not miss this workshop with Actor and Acting Coach Suzanne Coy. Learn how to build a successful career from an industry expert who has over 20 years experience in the entertainment business. This informative 3-hour workshop is a step-by-step guide on how to enter and succeed in this industry. You will learn traditional and non-traditional ways to pursue acting as a career and not a hobby. They are secrets and advice that you may not hear in another workshop or find on the internet. Whether you are an emerging actor or one who is not getting many auditions or landing roles, this workshop will give you a lot of insider knowledge that can take your career to the next level. If you want to avoid wasting time and money, while pursuing your acting career the RIGHT WAY, then this workshop is for you! Topics to be covered are:
• Getting started as an actor
• Avoiding scams and pitfalls
• Finding the right agent for YOU
• Getting more acting work quickly
• Writing a strong agent coverletter
• Tips for acing that all-important agent interview
• Hints on getting more auditions and booking more jobs
• Actor Marketing and Social Media tips that can launch your career
• Attracting the attention of more casting directors & key industry players
• Career tips that could take you years to uncover on your own…and much more
*If you would like me to organize this workshop for the students in your acting program/school or would like to have it offered to the actors at your agency, just let me know. Group rates are available. Contact me at: francine@talentunleashed.ca or               1(888) 436-7744 for more details.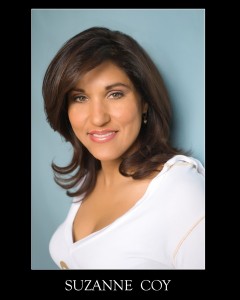 ABOUT THE GUEST SPEAKER:
Suzanne Coy – Actor, Acting Coach, Producer, Writer
Suzanne Coy is the Head Acting Coach of the Toronto Academy of Acting and a graduate of the National Theatre School of Canada. Over the years, she has taught all over North America. Suzanne is a seasoned character actor and a master of dialects. This brilliant and versatile performer always brings something unique to her roles. In addition to her stage work (including a couple of comedic one-woman shows), Suzanne has well over 60 TV and film credits. You may have caught her on the first episode of NBC's "Hannibal," or recognize her as Eleni Demaris from season one of "King." Her series regular role in "Dan For Mayor" was part of earning the cast a nomination for best ensemble at the 2010 Canadian Comedy Awards. Additionally, she has appeared in a number of projects including "Mr. and Mrs. Loving," "Noah's Arch: Jumping the Broom," Renee Zellweger's film "New in Town," "Flashpoint," "Blue Murder," "Mutant X," "Cold Squad," and "Suits" among others. She also had recurring roles in both "Heartland" and "Da Kink In My Hair." As one of Canada's leading actors, she is a frequent guest speaker and panelist at ACTRA conferences. Any newcomer can learn from her many years of industry experience on what it takes to become a successful working actor that gets paid!
*Disclaimer: Talent Unleashed is NOT a talent or employment agency. It is also NOT an acting school or casting office. The company does NOT promise or secure employment, jobs, auditions, or bookings for actors. Additionally, taking a workshop with an industry expert or using a service provided by the company is NOT a guarantee of future employment. Workshops and services provided by Talent Unleashed are solely to help actors to increase their chances of succeeding in the entertainment industry. Starting an acting career is not an easy endeavour to pursue. As an actor, it is your responsibility to do all that you can to succeed in the entertainment industry. With hard work, determination, and motivation from your mentors, you can achieve your acting dreams.