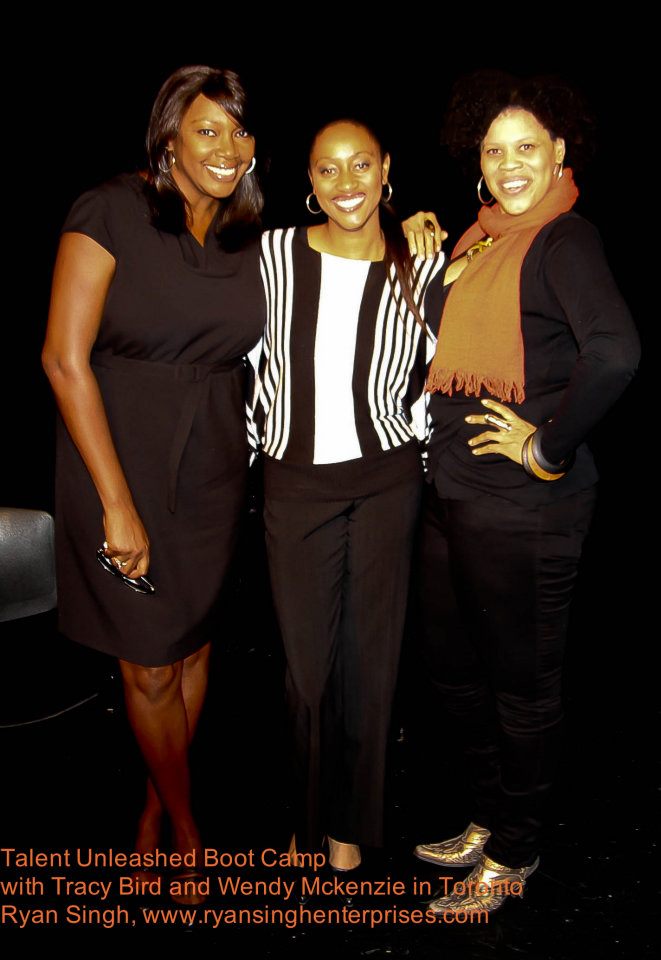 "Bootcamp" A Serious Workout for Local Actors"
By ANGELA WALCOTT
Sharenews, October 27th, 2011
As enthusiastic actors gathered for a "mock" audition, Wendy McKenzie takes to the stage and scans the audience.
"Any repeat offenders," she asks.
While randomly choosing from a pile of headshots, McKenzie explains that she will be teaching from the point of view of a casting director.
An actor steps into the spotlight, confidently delivering his lines. Another actor starts off strong until she forgets what she is supposed to say.
"Get ready and stay ready," McKenzie encourages.
Some actors use props to remain grounded in the scene. "Don't act, just be," McKenzie encourages. Many participants take her advice and display their emotions openly, either seething with anger or weeping uncontrollably.
Mention the words 'boot camp' and thoughts of intense drill sergeants come to mind. Boot camps have a reputation for the unimaginable - uncomfortable training filled with a gruelling exercise regimen that reduces even the toughest participants to tears. In a way, the "Actors Bootcamp" that was held in downtown Toronto at the Palmerston Theatre recently lived up to that reputation - and more.
Organized by the U.S. casting agency, "In The Wink of An Eye Casting", co-owners Wendy McKenzie and Tracy 'Twinkie' Byrd were in town to teach a full-day acting workshop, designed to inspire actors on the best ways in which to move forward their craft.
The boot camp included segments in Scene Study, Character Development, the Business of Acting, and Actor Marketing Tips. Byrd and McKenzie also invited Toronto-based acting coach Diane L. Johnstone to offer actor critiques during the session. Johnstone will be starring in the play, Desperate Church Wives, next month here in Toronto.
"We thought it would be great to show what casting directors were looking for, so we developed a workshop, put it together and here we are," says McKenzie who is based in New York City.
For Los Angeles-based Byrd, the main purpose of the workshop was to help de-mystify the casting process.
"All people see is the door and they wonder what goes on behind 'said' door. This allows you to be more comfortable in your space." She points out that not knowing what to expect can hamper the actor. "You have to be prepared and treat the 25-30 writers, directors and producers who are behind that door, like they are the audience."
The dynamic duo first met when McKenzie was auditioning as a model for Byrd. "On set, I am always learning about peoples' jobs. I talked to her about her job and the process," McKenzie recalls. "I thought this might be something I would like to do, so we did a trade. I taught Tracy about models and model management and Tracy taught me about casting."
The rest, as they say, is history. McKenzie went on to cast the talented unknown Quinton Aaron as Michael Oher in the Academy Award-nominated film, "The Blind Side." Other credits include casting for "Notorious" and "Three Can Play That Game."
The beauty of the bi-coastal casting agency is that it allows the business partners to cast for parts simultaneously - something which is part of the industry. It is important that they cover all aspects of the market and the New York/L.A. agency allows them to keep their ears to the ground for the next big talent.
While headshots are a representation of what the actor is, casting directors must also be informed in other ways. Acting reels and résumés assist the pair in discovering who the actor is as a performer. By looking back on the tape, they can see if there is something special and if the actor possesses that "it" factor that brings a character to life.
According to the successful casting directors, some of the biggest misconceptions about acting is that it is a lottery or a microwavable career that will happen overnight.
"They have to understand that it is a marathon and not a sprint," says Byrd. "Each step is a milestone and they must enjoy that journey."
A casting director has many responsibilities, not only to the actor but also to the writers and directors who are looking for a specific "type". It is important to know that it is the casting director's job to go outside what they had in mind.
"You want the work to be elevated," says Byrd.
A future project for the duo includes a book on the do's and don'ts for actors. McKenzie is also doing a series of speaking engagements that will include a stop in Jamaica where she lived at one point in her life. Byrd is currently shooting the film "Sparkle" and "Jump Off" and "What Doesn't Kill You" for TV.