If you are a working actor, then you can relate when I say that it is not an easy career to pursue. It can be a huge challenge to create a steady income with your acting talent. That is why I am always happy whenever I get an audition. I am even happier when I land a job. Over the years, I have been blessed to book many amazing acting jobs. Below is a sample of some of my biggest and best acting work to date.
Eggs anyone?...lol. So this is the Incredible Eggs ad that was featured in many top magazines such as In Style, People, among others. It was not an easy job to book. I had to audition for it, plus go to a few call backs. I was very proud of myself when I booked this ad campaign. It is a constant reminder of how hard work and preparation can lead to success. It was a great moment for me when I, along with my family members and friends, saw this magazine ad for the first time. Check out the ad below: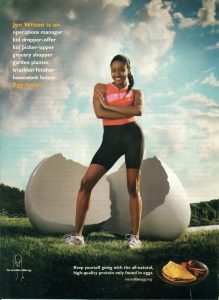 This is the commercial for the Incredible Eggs campaign. It is a national commercial that has already been seen by millions. A ton of work was put into this commercial by the cast and crew so it was gratifying to see it all come together. As it turns out, many of my family members and friends saw the commercial before I did. When I finally did see the commercial, it was another proud moment for me. Click on the video below and watch the commercial:
Here is the episode that I appeared in on "Final 24" television show. It is a documentary series that is seen on the Discovery Channel, Global Television Network, and OWN. The show chronicles the last 24 hours of the lives of famous celebrities. I appeared in the episode following the last 24 hours of Anna Nicole Smith's life. One of the scenes that I appear in was featured on Entertainment Tonight and Entertainment Tonight Canada. Shooting this episode was a lot of hard work, but I really enjoyed working on this project.  I met a lot of great people on that set. In fact, some of those same people are my friends to this day. It was a pleasure working with this talented cast and crew. Click on the video below and check out the episode:
Want to learn more about how to be featured in magazine ads and commercials?        Contact me at: francine@talentunleashed.ca or call 1 (888) 436-7744. 
*Disclaimer: Talent Unleashed is NOT a talent or employment agency. It is also NOT a talent counselling service or casting office. The company does not promise or secure employment, jobs, auditions, castings, or bookings for actors. Additionally, taking a workshop with an industry expert, using a marketing service, or career consultations are NOT a guarantee of future employment. Workshops and services provided by Talent Unleashed are solely to help actors to increase their chances of succeeding in the entertainment industry. Starting an acting career is not an easy endeavour to pursue. As an actor, it is your responsibility to do all that you can to succeed in the entertainment industry. However, with hard work, determination, and motivation from your mentors, you can achieve your acting dreams.